Events
Meat Carving Masterclass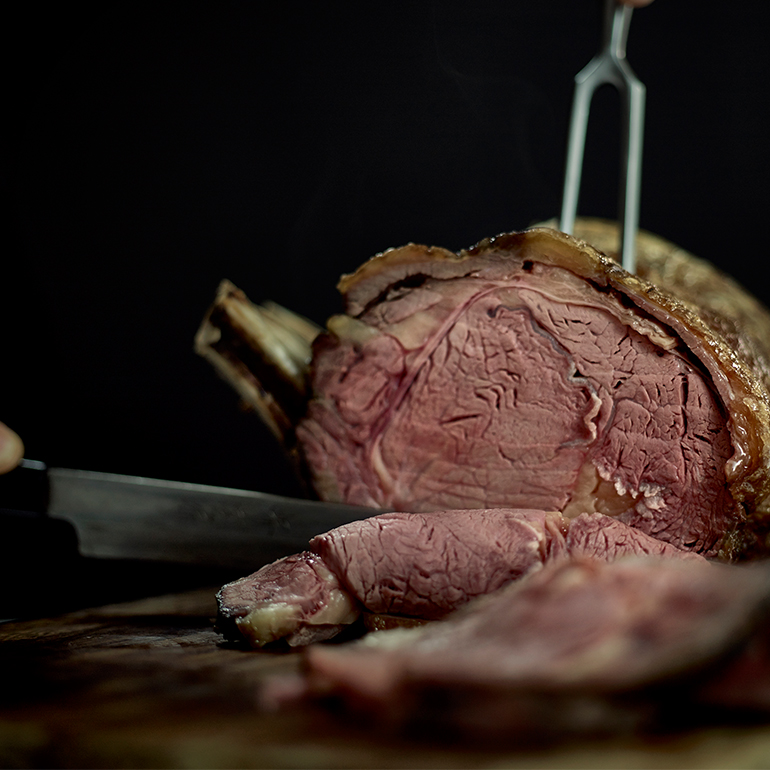 Treat your loved ones - or yourself - to one of our iconic carving masterclasses. Learn how to carve meat with tips and demonstrations from our master carvers, and enjoy a traditional three-course meal where you can bring your own guests and carve for them.
**Please note that Carving Masterclasses won't be available during the period the restaurant remains closed. Thank you for your understanding.**
Master the art of carving
Simpson's has been a London landmark restaurant since 1848 and has always specialised in roast meats carved individually at guests' tables. Legend has it that this practice owes its origins to the chess players who used Simpson's on a regular basis and did not want to interrupt their games at mealtimes.
Hosted by our master carvers, this class offers the unique chance to learn how to carve meat the traditional way, and to learn best practices for cooking, selecting and presenting meat by our expert team.
The masterclass also includes a kitchen tour through the iconic Simpson's in the Strand kitchen, and a three-course meal where the new carver can bring their own guests and carve the meat for them.
Carvers get a knife set and Simpson's apron to take home to keep practising their new skill.
Event schedule
10.00am: meeting and coffee refreshments
10.30am: carving class and kitchen tour
12.00pm: lunch
Capacity
15 carvers per class. Friends and family are welcome to join the carver for lunch after the masterclass
Cost
£220 per carver and £60 per lunch guest (£30 for children between 6 and 12 years old)
Location
Regency Room, at Simpson's in the Strand
Booking
**Please note that Carving Masterclasses won't be available during the period the restaurant remains closed. Thank you for your understanding.**
---
Planning your day after the booking has been made
Masterclass timings
Once you have made your booking, we will be in touch to reconfirm the final details and advise the seating time for your lunch reservation in the Regency Room. Due to the nature of the service, reservations will be allocated between 12:00pm and 13:30pm.
The masterclass will begin at 10.30am, and lasts for two hours. The carvers are welcome to join us from 10.00am and we would like to suggest arriving around 10.15am in order to register with our Simpson's Reception team. Refreshments and pastries will be available prior to the start of the class and you are welcome to join us for an aperitif in the bar at Simpson's before your lunch.
As part of the class every participant will receive a carving knife and fork gift set included in their tuition. Once the carvers have completed the masterclass, they will have the opportunity to practice carving on a variety of joints prior to carving for their guests from one of Simpson's famous silver-domed trolleys. The presentation of a Master Carving Certificate to each participant completes the day.
Dress code
We would like to take this opportunity to remind you our dress code is smart casual. You are welcome to wear jeans as long as they are in good repair; jackets and ties are optional for gentlemen. However, please kindly note that we do not permit any sportswear or trainers.