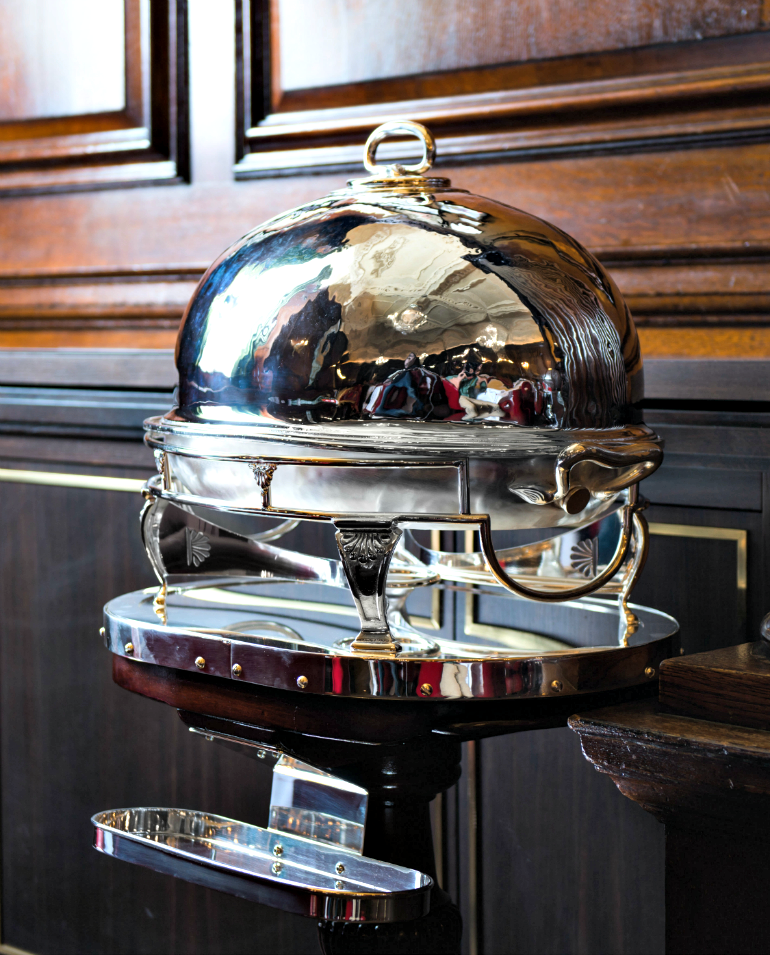 Taking centre stage on our Bill of Fare for nearly two centuries, roast meat is at the heart of Simpson's in the Strand. Wheeled to your table on our original Victorian silver domed carving trollies and attended to by our Master Carver, our appreciation of the traditional roast dinner is integral to our commitment to serving British classics using the finest of locally sourced produce.
Beautiful cuts of roasted meats are our passion. From the 28 day aged Buccleuch Estate beef to Welsh lamb from Daphne's farm in the rolling hills of Wales, the roast sits at the heart of our Bill of Fare alongside fine British classics.
It was during our time as the home of British chess that our famous domed carving trollies first made an appearance as they were introduced to allow the serving of meals without disturbing the matches being played throughout the Grand Divan. As part of our restoration in 2017, the trollies themselves were carefully restored to their former glory and bear witness today to delighted diners as they did in the 1800s.
The roast dinner is known as a classic example of British cuisine throughout the world but where did it actually come from? The history of the roast dinner can be traced to the 1700s, around 100 years before Simpson's first opened its doors. Families going to Sunday church services would slow cook joints of meat with vegetables in order to have a full and hearty meal on their return. The juices from the meat made a rich stock which could be poured over the meat - or indeed the whole dish! - creating the first semblance of gravy that we know and love today.
Whether you like your gravy on the side or all over, we are delighted to carry on this delicious tradition today and every day.