Tips
Tips for the Perfect Easter Lamb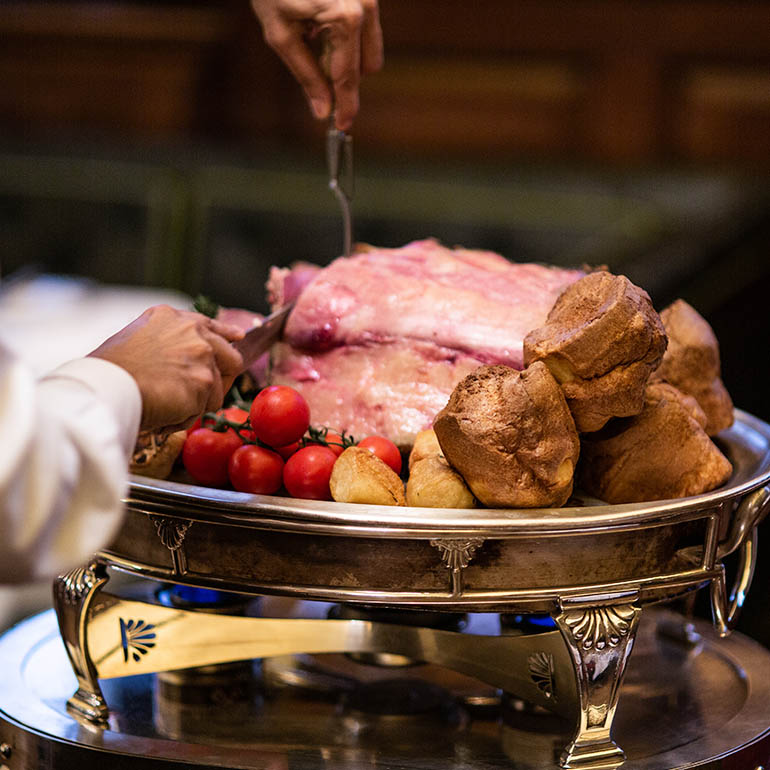 Easter is about spending quality time with family and there's no better way to bring people together than a delicious roast. Our Master Cook at Simpson's in the Strand, Matthaios Tsistrakis, gives us his top tips for cooking the perfect traditional lamb roast.
This Easter, enjoy tasty lamb from our historic roast trollies. A favourite on our Bill of Fare, the saddle of lamb is sourced straight from Daphne's Farm in the valleys of North Wales for unrivalled flavours that you know and love.
A roast would not be complete without trimmings which is why we serve our lamb roast with a generous helping of Confit Portobello mushroom, roast potatoes, buttered Savoy cabbage, mint gravy and redcurrant jelly. As well as seasoning the lamb with garlic, thyme, and rosemary, we spoke to Matthaios Tsistrakis, Master Cook at Simpson's in the Strand for more tips on how to cook the perfect roast lamb this Easter.
Preheat the oven to 165°C. Place the lamb leg on a roasting tray and place in the middle of the oven.

Cook the lamb until it hits a core temperature of 45°C in the fattest part of the centre of the leg. Make sure the cooking probe reaches the bone to take the temperature.

As meat is a very good insulator of heat, the core temperature will continue to rise another 10-15°C and retain all the flavoursome juices that usually spill all over your work top when you carve.

Cooking this way means that the leg should be slightly underdone after resting it for 30 minutes - it is very important that you rest the meat.

All you need to do now is pop the legs back in the oven for a further 10 minutes just before you wish to serve, to cook to perfection.