News
A Restoration 189 Years in the Making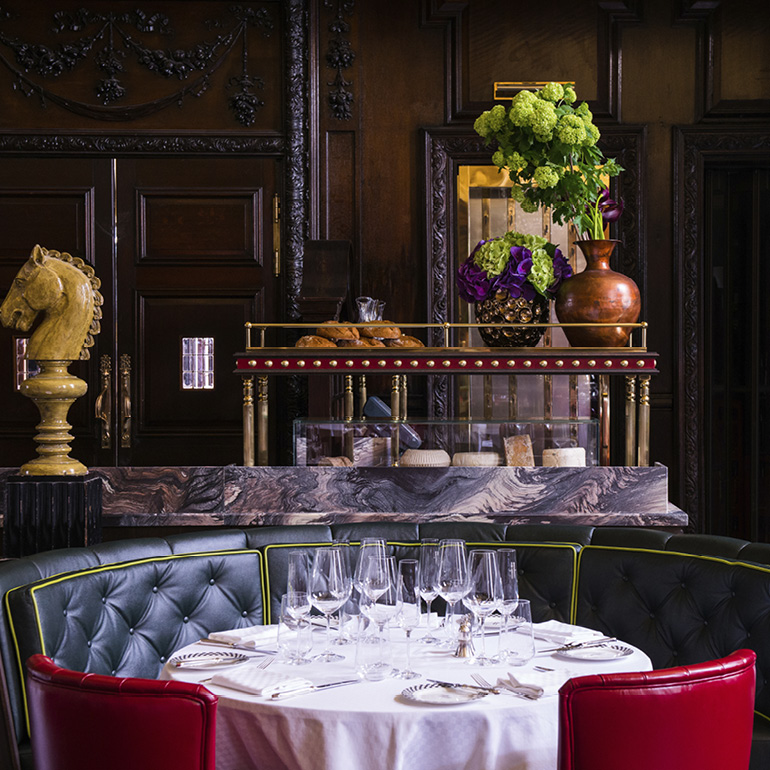 For the first time since 1903, Simpson's closed in April 2017 for a respectful restoration of the original interiors, beginning an exciting new chapter in the history of one of London's oldest restaurants.
Interior Designer Robert Angell, who has been working with The Savoy for four years now, talks about his design vision for Simpson's in the Strand.
Simpson's in the Strand offers a totally unique vibe to the rest of The Savoy, and has its own style and identity. The menu style and service is reflected as part of The Savoy's acute attention to detail, but having its own entrance makes it feel more like a cool members' club that's open to all.
It's a restaurant that is close to my heart; my first experience of Simpson's was as a guest when my old school reunions took place there. It just epitomised Englishness and is an institution in every sense. With the redesign we had to recognise a need for Simpson's to change with the times in order to appeal to a new generation, whilst at the same time celebrating its history.
The new lighting, furniture and subtle finishes that we're introducing will help to bring this sense of Englishness and history in an appealing style. The way that people dine is more relaxed nowadays, so I've introduced long seating banquettes into the space, and also reflection through mirrors and colours to the dining room, which were missing.
Simpson's is all about enhancement to make guests feel as though it's always been like this, which will more than meet their expectations in terms of service and style. The ceiling has been painted in a distressed, tea-stained colour to bring an aged look, but because it's done all over the ceiling, it's a very contemporary approach.
Chess played a big part in the history of Simpson's, which can be seen in the entrance floor mosaic pattern, and we're using some historic pictures that were taken, as well as bringing a lot of new art with a different approach to referencing chess, with illustrations of octopuses, windmills and forks, which some will be baffled by, but others will know as chess moves.
Then, there's Winston Churchill, who's so synonymous with Simpson's and The Savoy, so we've retained his dining table location, next to the fireplace at the far end of the restaurant. Simpson's is so steeped in amazing history, and will continue to be in the future, I'm sure.
This has been an amazing project to work on. It's such a pleasurable feeling to enhance what's an already successful restaurant, and bring about a subtle, yet total, transformation for people to enjoy the new delights on offer, against what I hope is a beautiful, relaxed backdrop.
We are this generation's custodians, and it's all of our jobs to make sure that we retain the hotel's integrity, stature and provenance, yet ensure that we bring lifeblood to these beautiful buildings for generations to come, make them exciting, fun and vibrant places to enjoy, meet and celebrate, and create lasting memories too.